---

---

---
Congratulations on winning the
2015 Super Service Award.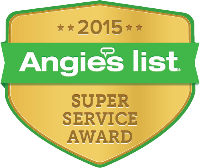 Front Row:
Winners Of Super Pool Contribute To Charities.
By Barrett Neale
The New York Giants weren't the only ones to feel the thrill of victory during Super Bowl XLVI. The winners of PressBox's second-annual 100 Block Charity Pool collectively received $14,000 for their selected charities. Each participant in the block pool received two numbers for the Super Bowl, one for the New England Patriots' score and one for the New York Giants' score. At the end of each quarter, the member of the 100-block grid whose numbers corresponded to the last digits of the teams' scores received $3,500 for its charity of choice.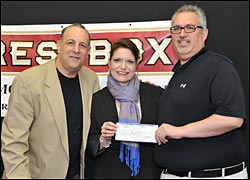 Stan "The Fan" Charles, Mindy Mintz Mordecai and Mark Schwartzman Glen Burnie Transmissions Numbers: 9 (Giants) and 0 (Patriots) Quarters won: first (Giants 9, Patriots 0) and second (Patriots 10, Giants 9) Total winnings: $7,000 Charity: Esophageal Cancer Action Network
Mark Schwartzman, president of Glen Burnie Transmissions, said he had selected the Esophageal Cancer Action Network because his father, Alfred, died of the disease in 2006, just seven months after his diagnosis. "My dad never had any symptoms," Schwartzman said. "He came home from vacation from a cruise, and he said on the cruise he would eat a meal and just vomit it back up, the whole meal. By the time he got it checked when he came home, his esophagus had almost closed up from the cancer, and it was stage IV, so he had no chance." Mindy Mintz Mordecai founded ECAN almost three years ago, after her husband died of esophageal cancer. She said Glen Burnie Transmissions' donation would help efforts to raise awareness about this disease. Following a national ECAN campaign, April became Esophageal Cancer Awareness Month. "Esophageal cancer is one of the fastest-increasing cancer diagnoses in the country," Mordecai said, "and the reason why we think awareness is so important is because this is a disease that is caused by reflux, or heartburn, and most people have no idea that they're at risk until it's too late. … We were able to convince the National Cancer Institute to include esophageal cancer in their genome atlas project, which is mapping the genome of cancers."
---
Watch the video.
Glen Burnie Transmissions services all cars, trucks, mobile homes, buses, vans, and four wheel drive vehicles in Baltimore, MD. As the largest transmission service center in the Baltimore area, we offer a variety of solutions for our customers. Whether it's a remanufactured transmission, a rebuilt transmission or a used transmission, we can provide the what the customer needs. Each of our trained technicians specializes in a certain type of transmission, and we frequently attend industry seminars to update our skills. You can rest assured Glen Burnie Transmissions only specialize in one thing - transmissions.
At Glen Burnie Transmissions, we pride ourselves on superior service. Our staff is always happy to answer questions, & management is onsite during all business hours. We also offer a complimentary road test to help assess your transmission needs. Give us a try. You will not be disappointed!
Fleet Services
We Can Service Your Fleet Transmissions! County, Postal, State, or Transport Busses in Baltimore, MD